 Supersorber MAX, for maximum absorbency and protection. Absorb up to 2 litres liquid. Suitable for children in toilet training stage, as well as the elderly and patients.
KING\QUEEN SIZE 180×140 CM WITH TUCK-IN-TAILS

XL SIZE (HALF KING\QUEEN BED) 180×90 CM WITH TUCK-IN-TAILS
SINGLE SIZE 105×140 CM WITH TUCK-IN-TAILS

L SIZE (HALF SINGLE BED) 105X70 CM WITH TUCK-IN-TAILS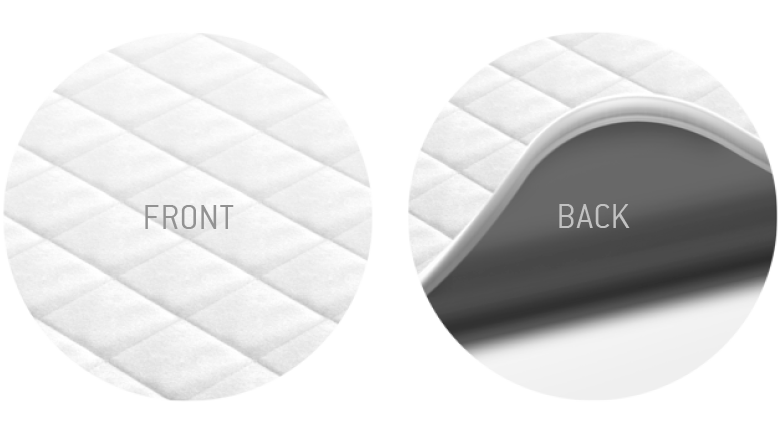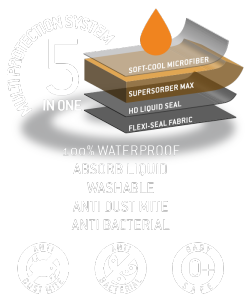 Supersorber MAX is used to protect mattress, sofa from wetting. It is designed to absorb more liquid with Breathable Multi Absorbent Layer and Hi-Density Liquid Seal
Instruction:
Place the pad directly on top of areas to be protected, with the quilted side facing up.
1  HD Liquid Seal with Waterproof binding prevents liquid from leaking through the pad 100% and over the edge.
2  Supersorber MAX was designed to absorb liquid up to 2.0 litres.
3  Reusable. Machine washable and can be tumble dried in low heat.
4  Breathable, makes sleeping cooler, unlike plastic sheet which blocks air flow and retains heat.
5  Non-irritation with rubber free component
6  Safe and clean with Anti bacterial
7  Anti dust mite
8  Safe for baby with Oeko-Tex Standard 100
Care instructions
• Supersorber must be washed before the first use. • Do not use fabric softener. Do not bleach. They affect absorbency. • Machine washable and tumble dry low, not exceeding 30°C. • Do not iron.
Content: 100% Polyester